The first session of 2014 Teen Leadership Camps was incredible. Campers and Staff spent six days hiking 22 miles on the Appalachian Trial, swimming in the French Broad, kayaking class III whitewater, and caving at Worley's Cave. The trail brought new friends, great food, burning legs, a few tears, many smiles, and laughs over the 22 miles we walked to Hot Springs.
That evening we had a great meal and a fireside talk to end the evening.
Camp began on Saturday with campers being dropped off at the Island and answering last minute questions from parents. After getting settled into the cabins, we got right to work. Getting to know each other for a while and going through a pack explosion where we took a look at what everyone was bringing to make sure we were all prepared to have a great trip. That evening we had a great meal and a fireside talk to end the evening.
Sunday morning began our trip to the Blue Ridge Mountains, in Hot Springs, North Carolina. Arriving at the base of Max Patch and after a quick lunch break, we shouldered our 40 pound packs and ascended the 4,400 foot bald where we picked up the Appalachian Trail (AT). The first day on the trail is always a little rough, and our's was no exception. After a wrong turn and being set straight on the right path by a friendly AT Though Hiker, "Big Country" we hike 3 miles to our first campsite. Here we learned how to set up our hammock shelters, hang bear bags, how to poop in the woods, and what it takes to have pizza in the woods. As the sun was setting we concluded the first day with what became our evening ritual, A Rose, A Bud, and A Thorn. A rose being what was something during the day that was great or something that you enjoyed. A bud is something that is on the horizon for tomorrow and hopefully will turn into a rose for the next day; and a thorn was something that you did not particularly enjoy or wished it would have been better. Each camper and staff took a turn going though their own rose, bud, and thorn for the day. As we took our places in the hammocks a soft rain lulled us to sleep.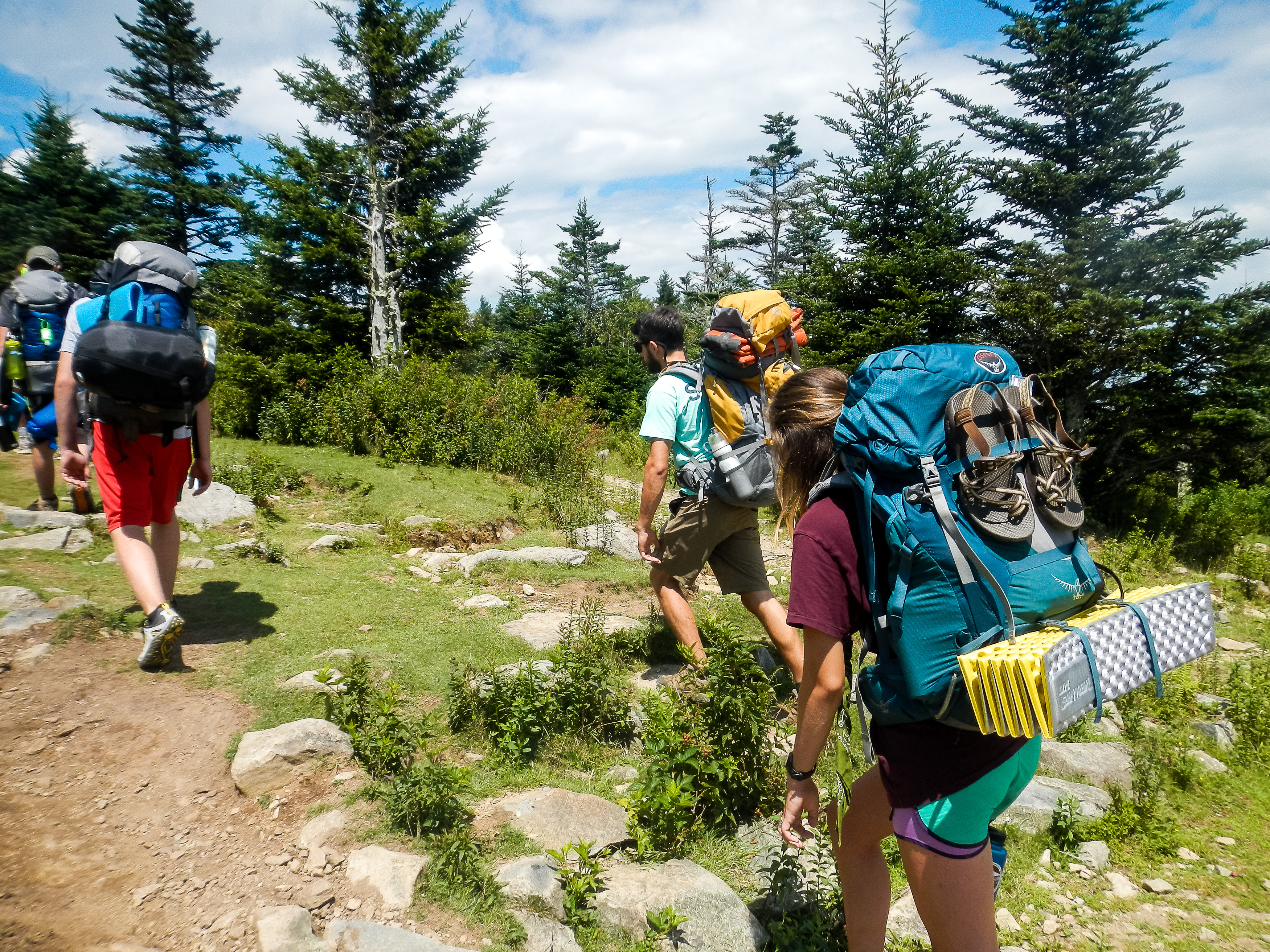 We hiked from mid morning to after lunch Monday – Wednesday , taking our time to enjoy the scenery, talk, marvel at the beauty of the mountains, and simply be. There were no schedules to be had or places that we had to get to while on the trail. Whatever happened was ok, knowing the staff had the training and ability to roll with what came.
On Wednesday morning we strolled into the town of Hot Springs and set up camp on the banks of the French Broad river. The rest of the day was spend laying in the cool water relaxing and skipping rocks. That evening we had a special treat, a natural mineral water hot tubs. The pain and soreness in our legs melted away in the warm mineral water.
Thursday we set out early to get on the river. We challenged the campers to paddle inflatable kayaks or Duckies as there called in the rafting world on the Class II/III section of French Broad Section 9. The group did amazing. There were some funny swims, laughs to be had, and memories made for sure on the river that day. To top off the great time on the river we celebrated by eating delicious pizza's at the local diner.
We ended the week with a trip up to Bluff City TN, to go into the complete darkness of Worley's Cave. We met our guide from USA Raft, that gave us a brief safety talk and handed out our helmets and head lamps. After a short walk we entered into the darkness. For 4 miles we crawled, slide, hunched, fell, slipped and walked through the cave. Getting muddier and muddier with each step till we walked through a freezing cold 55 degree, thigh deep underground stream we emerged in the light. We changed our clothes set our gps on the closest Chick-Fil-A and headed for home.
Until next time,
Griffen Williams – Team Leader
From a TLC Camper – Jacob:
TLC WAS AWESOME!!!I liked Teen Leadership Camp because of all the activities we did like caving and whitewater kayaking. I also enjoyed the scenery along the miles of trails and on top of the mountains. I like the food we ate and the fact that we had a small amount of people, overall it was a great trip! It is a great experience for anyone.
If you're interested in registering your teen for TLC Camp, Click Here!