We recently hosted a team of 10 corporate executives from Washington, D.C. visiting the Charlotte area for a week of training and evaluation of a new hotel concept they're launching. At the end of their week they decided to do a team outing.
"We're looking for something that would be… umm, team-building– but fun too." This is what the organizer told me over the phone a month ago when they were planning the trip.
I hear this kind of comment from so many event coordinators and business leaders. "Teambuilding" is said almost as a requirement for getting a staff outing approved for budget but what we really mean is a fun day out of office- right? Okay, so how can we accomplish both challenge and fun in one outing? I believe the correct approach is to better understand what the true nature of teambuilding is and how that can be customized to fit each group's specific needs and the makeup of the team.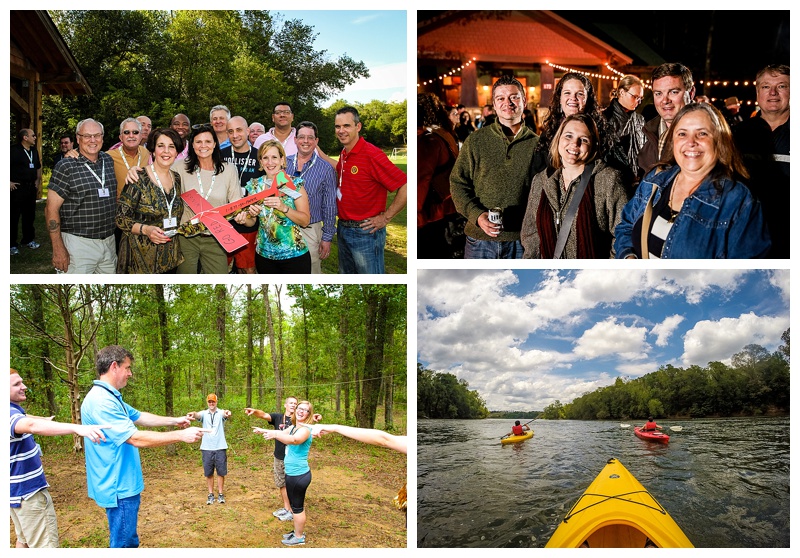 So what is teambuilding? Today there are many definitions to this term. The problem in our congested word highway of text, talk and e-mail is that words get buzz then they get overcooked and lose their meaning. Words can only be accurately defined when we are willing to peel back the layers and see what the original intent and meaning is. Teambuilding is obviously two-words put together that assumes something about each other.
A Team is a group or collection of people that have a common goal or objective. Building is development, growth; when we construct something out of materials or ideas. When combined, the term assumes that a team has the ability and is willing to be "built" or constructed into something. It also assumes that the team is comprised of compatible "materials" that can fit together in a way that promotes growth and development.
People are a company's greatest asset (or so they should be). Human resource within a company needs just as much maintenance and attention as the company's other assets and concerns do. This concept is not profoundly new within developing businesses. These days, business leaders understand the value of culture within their company, better than fair compensation and incentives for their employees. There is a huge wave of strategist that show convincing data that better performance from employees is a direct result of proper care, support and appreciation of the human capital that makes up the company.
This maintenance and care of the people translates on an individual and collective basis to sustain effectiveness and efficiency within an organization. Individual growth occurs through continuing education, mentorships, incentive plans with reachable goals and even through peer to peer evaluations and assistance programs. Basic investment in the talent and genuine care for the person is a winning combo.

But when we widen the scope to include others, the maintenance and care of a team of individuals becomes more varied in approaches and measurements and can often lead to frustrating results. Many group leaders are at a loss when they begin planning an event for their team. Whether it's a sales group , an office of attorneys, marketing firm or healthcare providers the assembly of people is as varied and unique as the industries they represent. Many group leaders just want everyone to have fun and get along- this isn't as easy as one would imagine it to be.
Here at Canaan we have developed a simple 4 step process that helps to evaluate the objectives and goals of the group and eliminate (most of) the heartache that comes from getting people together outside of the office.
Group In-take Form- Yeah, I know this sounds painful, but it's not that bad. If group leaders would take 10 minutes to fill-out a simple questionnaire that we've developed, it will not only help our team in design and development of the right program for the group but it also provides some clarity of thought for the group leader as she thinks through her team members and their unique needs and expectations for an outing.
ComMotivate your Team- Once we have received the intake form, our team will evaluate what the best program(s) are for your groups needs, budget and allotted time. Answering questions like whether there are team members with a disability, fear of heights or even pregnant are physical aspects that determine program choices. It will also help us to know what blend of "challenge and entertainment" is the right concoction for your team. Then once we have provided some options for a perfect day outing, along with expected results for your team, it's now time for you to ComMotivate (communicate and motivate) your team members to get excited for their event.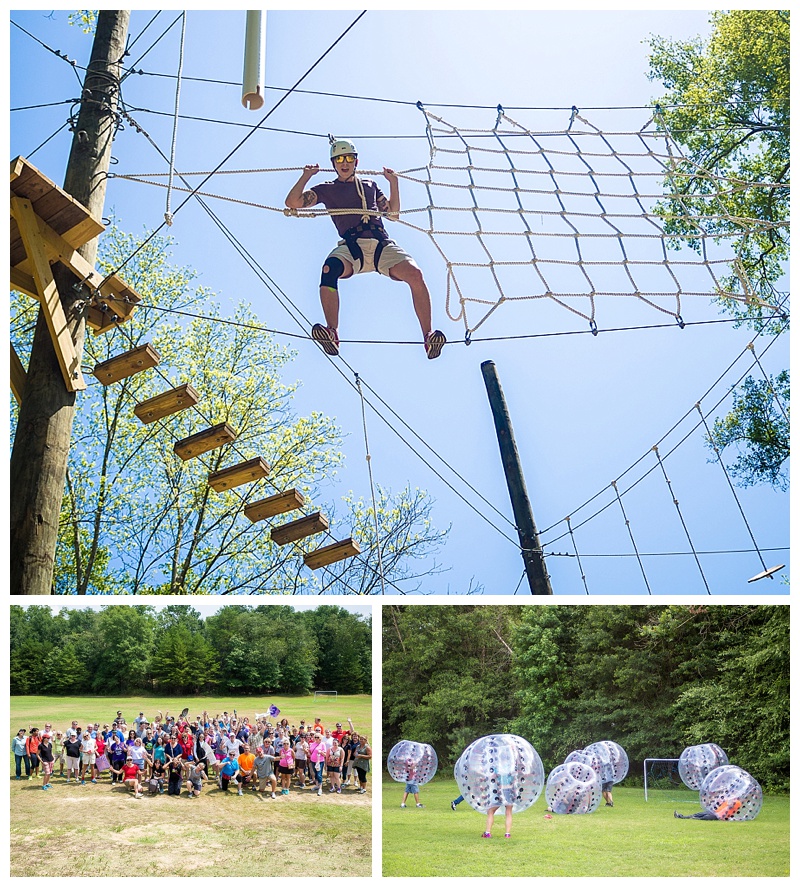 This is not always easy. Here are a few guidelines we have found very helpful for groups: Tell the truth about what you're doing and relay the details in an e-mail and face-to-face in a meeting– don't make it a surprise (not everyone finds ziplining at 70 ft. in the air a fun surprise). Also, don't overemphasize that there is a beer tasting after the program but forget to mention the program itself. It's good to send lots of pictures in your e-mail and read through our FAQ section so you're prepared to answer a myriad of questions from your concerned (excited) staff.
Value the "I" in Team- When the day has finally arrived for your group outing,  take some time as the group leader and check-in with your staff members to see where they're registering on the "anxiety" level. Listen to what their expectations are for the day and encourage them where necessary. Whether your group is doing elements of the High Adventure Course or participating in a mind-boggling critical thinking activity, awareness and approach to each person in their experience is paramount both for the group leader as well as the other team members.
This is where the magic of teambuilding happens- when the challenge of the program requires the individual to look deep within themselves and to their teammates to accomplish the given task.
Don't skip the debrief! – The most overlooked and under-appreciated part of a teambuilding experience is the final debrief. This is where the whole experience can sink or swim. A talented adventure guide knows the value of helping a group to talk through what they've just experienced. I like to use the term "Thinking Through = Thinking True". By facilitating a series of predetermined and ad hoc questions in debriefing it enables both the individual and the group to walk through each aspect (physical, mental, emotional and spiritual) of their experience and move from a subjective opinion about themselves or the challenge to an objective truth about what that challenge just revealed.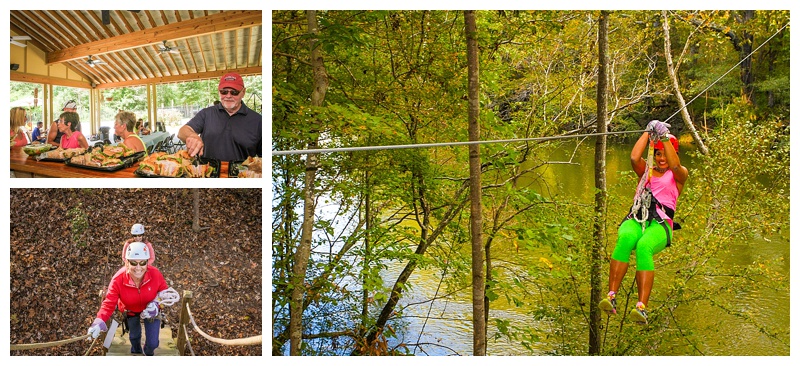 For example, a person who may be a little out of shape has high anxiety about physically and mentally being able to complete the High Adventure Course. By offering the question: "How did you feel before you got up on the course?" The person is given permission to unveil the subjective "feelings" of embarrassment, fear, anxiety, failure, etc. Then, depending on the outcome of that person's experience, whether they completed a part of the course or braved the entire thing, we can not only ask the participant what the end result feeling was but we can now extend the question to the team for their perspective about that person's achievement.
What we often hear, 9/10 times is that the other team members were surprised that he or she were even scared to do the challenge and that through the team's encouragement and support, both the individual and the supporting team members felt a sense of accomplishment for what they had achieved together.
This only proves that when we are willing to be a little bit more vulnerable about our shortcomings and fears within a given situation, we risk allowing others to come alongside of us and provide the help and support that everyone of us really needs- this is when a team is built up and made stronger.
Then learn to celebrate- celebrate each other's accomplishments; celebrate the small things and the big things. Learn to laugh with each other and not at each other. Be willing to embrace the dirt, the sweat and the success of completing something together.
So the next time your boss suggests a teambuilding adventure outing for your group, refer back to these basic steps of how to plan, execute and debrief a program so that your team members and ultimately your company has an incredible experience with lasting takeaways. As a final note, when you are looking for a facility that provides teambuilding, consider asking more questions like what I've provided in this blog and do not make your decision simply based on the cheapest price or coolest facility.