The VISION 2003-2004
The story of Canaan began to unfold in the summer of 2003 when two couples, Aana Lisa and Jim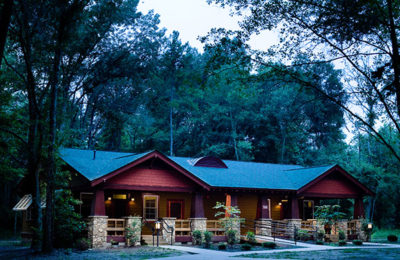 Whatley and Nick and Tiffany Wimmer met to share the desires God had placed in them to develop a unique ministry to children and families on a 100-acre island in the Catawba River in Rock Hill, SC.
The Whatley's had owned the property for several years, clinging to the promise that it would be used one day as a blessing to children and their families. Together with the Wimmers they embarked on an exciting journey that had many obstacles to overcome including how to re-zone the property for commercial use, provide access and fire safety across the bridge and to create a ten-year master plan that would receive approval from local authorities. With each challenge God faithfully overcame, moving the vision into a full blown reality and maturing the leadership and the details of the ministry. In 2004, Canaan was established as a 501(c)(3) non-profit and a Board of Trustees was formed.
The beginning – 2008
In 2008 construction began on the first phase of buildings including two cabins, a picnic pavilion, and a multi-purpose building. And in 2009 Canaan opened its doors for its first season of summer camp programs and fall retreats. Starting with thirty campers in the first year of day camp and just a handful of retreats and day events, Canaan now offers year-round programs including a ten-week day camp, resident camp and teen leadership camp weeks as well as customized retreat weeks and weekends and corporate team building offerings. As the 5th year of the ministry comes to a close, Canaan has been immensely blessed to see incredible growth and expansion on the island. Improvements such as a junior olympic pool complex and world-class zipline canopy tour have been added as well as a high adventure course and championship disc golf course. But the greatest achievement has been the impact made in the lives of over 3,000 campers and over 8,000 retreat and adventure participants in the past five years. Since inception, the hope and prayer has been to see every life that drives across the bridge and onto the island eternally changed and made different by providing unique outdoor experiences that encourage personal growth and deepen relationships with God and others. With the leadership of the Board of Trustees, the continued support of donors and partners and the unyielding commitment of the God-formed community here at Canaan, the faithful work of Christ continues to grow here on the island each year. 
The Master Plan